Quality Management System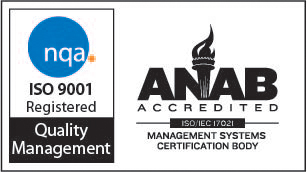 Certified in 2007, Universal Switching Corporation implemented and maintains a Quality Management System (QMS) that serves as the backbone for the products, services and innovative designs it offers. Continuing its commitment to being the leader in the programmable switching industry, the company is certified to the ISO 9001:2008 quality standard. Universal Switching Corporation's management team fully supports the ISO process and its function within the company. The tremendous teamwork and dedication shown by all "Team USC" employees to our Quality Management System has resulted in continuous re-certification by National Quality Assurance since our QMS was effected. Of all QMS regimes, the ISO 9000 family of standards is probably the most widely implemented across the global.
Universal Switching Corporation was audited and re-certified to the ISO 9001:2008 standard on October 25th, 2015. USC is currently exploring and implementing updates to our QMS to meet the soon to be released ISO 9001:2015 standard to continue improving our excellent Quality Management System.
Quality Policy

Universal Switching Corporation is committed to being the leader in the programmable switching industry by providing innovative products and services that continually exceed our customer expectations.

ISO 9001:2008 Certificate

Quality Statement

Universal Switching Corporation has a Quality Policy that serves as the backbone for the products, services and innovative designs it offers. As a global supplier of cutting-edge switching equipment and associated support products, Universal Switching Corporation's management fully supports the ISO process and its function within the company. In achieving ISO 9001:2008 certification, Universal Switching Corporation has demonstrated to ANAB accredited third party auditors (National Quality Assurance) that we have an effective Quality Management System in place. These include the following types of processes:
| | |
| --- | --- |
| Management responsibility | Outsourcing |
| Management review | Production and service provisions |
| Resources and work environment | Control of monitoring and measuring devices |
| Product realization | Control of nonconforming product |
| Design and development | Analysis of data |
| Customer relations | Continual improvement |
| Measurement, analysis and improvement | Corrective action |
| Purchasing | Preventative action |